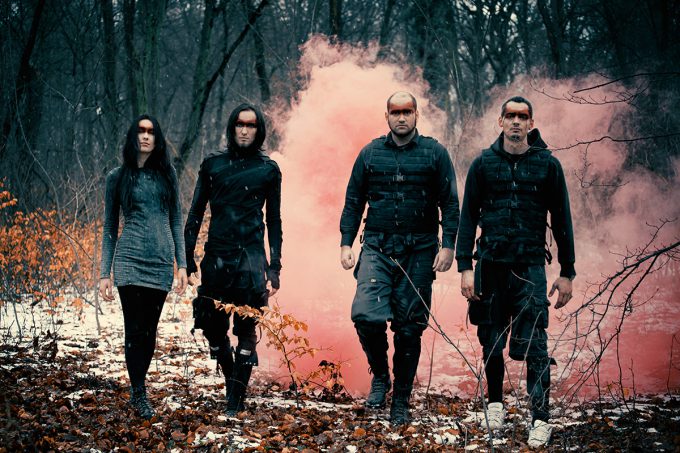 X-VIVO:
Kai – Vocals
Alex – Guitars, Vocals
Alina – Bass, Vocals
Olli – Synths, Vocals
Dima – Drums
BANDINFO
X-Vivo was a Post-Industrial Metal Band from Berlin, which has made a name for itself in the underground scene with its unparalleled sound. Various styles from Industrial, Core, Alternative to Post-Rock are combined organically and mostly have a gloomy tone. Timon Krause from Power-Metal.de wrote, X-Vivo "is one of a few established bands, whose sound is so distinct, that each one would deserve its own patent." Panorama-filling guitar riffs meet interstellar synthesizers, until a piano from outer space lets everything fall apart and the sounds rebuild from scratch. In addition, there are four voices ranging from rough screams to spoken word and auratic singing. X-Vivo is an emotional anti-pathos in a damp garment and partly despicable mask.
After a first Demo-EP named Evil One, their debut album EgoPhobia was released in 2009. In the following, the band reformed, reoriented its sound, and the result was presented in 2013 with the remix EP Out Of The Smell Of Decay. Selected tracks of the debut album were expressed in a new light. In 2017 they released their concept album Petrichor, which addresses speciesism and opposes the circle of apathy and suppression. "Gloomy, brute, violent, but also graceful, melancholic and fragile – The soundtrack of life." (Badblack-Unicorn Magazine) – Several online reviews stated the band overall highly positive feedback. The song "The Eyes Of The Wolves Awake" was released as a first single including music video.
Various titles of X-Vivo appeared on samplers of Sonic Seducer, Dark Spy and Zillo Magazine. Moreover, they have been live support to bands such as Combichrist, Infected Rain and Ost+Front.